Já foi objeto de post aqui neste blog, o World Cup Rally, que o Daily Mirror fez em 1970 - um rallye de longa distância entre Inglaterra e México, para comemorar a Copa do Mundo de Futebol, aliás, vou melhorar aquele post, contudo, muitos me perguntam que carros foram aqueles que participaram desta prova (perguntam muito isso sobre essas provas longas, como London-Sydney em 66, para a Copa FIFA; o Pekin-Paris; o Safari, dentre outros)
.
O London-Mexico World Cup Rally era na verdade um rallye na modalidade Maratona, com largada no Wembley Stadium em Londres no dia 19 de abril de 1970, com chegada na cidade do México em 27 de maio de 1970, rodando aproximadamente 25.750kms (16.000 milhas), tendo como ganhador o fantástico Hanu Mikkola e o mítico Gunnar Palm, num dos semi-works Ford Escort MK1. Na verdade quem estava por detrás desta prova era o Paddy Hopkirk e o Wylton Dickson, tendo como sponsorship o The Daily Mirror - realmente, apenas para ressaltar - a grande vencedora foi a Ford com seu modelo Escort, demonstrando ser esse carro um modelo forte, equilibrado e muito mas muito rápido.
Tinha muito piloto bom nesta maratona, como o Rauno Aaltonen, o experiente Andrew Cowan - que ganhou a maratona London-Sydney de 68 - Brian Culcheth, Tony Fall, Paddy Hopkirk, Timo Mäkinen, Hannu Mikkola, Rene Trautmann, Guy Varrier, José Migliore, Roger Clark e o Gunnar Palm. Tinham alguns vips, como o jogador de futebol Jimmy Greaves, que terminou a prova em sexto lugar no Ford Escort 1850GT, e o nobre leitor deste blog HRH Prince Michael of Kent.
Não sei por que essa curiosidade - meus leitores perguntam sobre provas na África, na neve, maratonas, enfim, provas duras. Eu acredito que querem saber que carros são os mais duráveis e confiáveis. Os carros nesta prova eram standard com algumas (diria muitas) modificações (alguns tidos como bizarros vide os Rolls-Royce e o Bug, isso sem contar com as estates).
Os únicos carros de fábrica tidos como works, eram da Ford, British Leyland e Moskvitch, e tidos como semi-works os da Citroën. Os Escort MKI tinham motor Kent de 1850cc preparados (cada carro da Ford tinha dois pilotos oficiais - tinham carros semi-works com motor Kent 1600cc e 1300cc). A BL tinha 2 Times: 3 Triumph 2.5PI MK2, com um motor mais bravo do que os da Ford, e dois destes carros tinham 3 pilotos oficiais - o segundo Time da BL era formado por Austin Maxis, Austin 1800 (alguns sob o badget da Morris) e um Mini Clubman. A Citroën, colocou seus DS21.
London-Mexico World Cup Rally - Lista Final de Entrada
No.
Observação
Veículo
Time
Pilotos
1
Works
Triumph 2.5 Pi Mk2
R. Buchanan-Michaelson
Bobby Buchanan-Michaelson, Roy Fidler, Jim Bullough
2
Porsche 911
Bio-Strath,
Terry Hunter, Geoff Mabbs
3
Morris 1800
Peter Jopp
Peter Jopp, Mark Kahn, Willy Cave
4
Hillman Hunter
Berry Magicoal
Rodney Badham, Rob Lyall
5
Peugeot 404 (Yug)
Ivica Vukoja
Ivica Vukoja, Streton Dordevic, Nester Milanov
6
Time Militar
Peugeot 504
British Army Motoring Assoc.
Major Hemsley, Sgt. W.J. Easton
7
Vauxhall Viva GT
Peter Garratt
Peter Garratt, Chris Coburn, Robert Grainger
8
Time Militar
Peugeot 504
British Army Motoring Association
John Rhodes, Joseph Minto
9
Ford Lotus Cortina Mk2
Ford Sports Club, J.C. Withers Ltd
Ian Harwood, Frank Pierson, Barry Hughes
10
Vauxhall Ventora
Cecil Woodley
Cecil Woodley, Rober Locke, Philip Waller
11
Ford Capri
Paul Donner
Paul Donner, Martin Donner
12
Citroën DS21
Robert Nyret
Robert Nyret, Jacques Terramorsi
13
Rolls Royce Silver Cloud
D. Martin
D. Martin, W. Martin, J. Martin.
14
Ford Escort
Sobieslaw Zasada
Sobieslaw Zasada, Marek Wachowski
15
Ford Lotus Cortina Mk2
Temple Meads Motors
Ron Channon, Rod Cooper
16
Escort Elba Caravan
Wilsons Motor Caravan Centre
James Gardner, Laurie Ritchie
17
Hillman Minx GT
J.C. Bamford Ltd
Peter Brown, John Bloxham, Robert McBurney
18
Semi-Works
Ford Escort
Daily Telegraph
Hannu Mikkola, Gunnar Palm
19
Volkswagen
J.H. Perez Vega (Mex)
J.H. Perez Vega, G. Hinojosa, Rivero Barcena
20
Time Feminino
Austin Maxi
Marshalls Cambridge
Patricia Ozanne, Bronwyn Burrell, Katrina Kerridge
21
Works
Moskvitch 412
Auto Export (USSR)
Ivan Astafieva, Alex Safonov, G. Garkaicha
22
Alfa Romeo Guilia
Bob de Jong (Neth.)
Bob de Jong, Chris Tuerlinx

23

Não largou

Ford Zodiac Mk IV

H. Mead

Humphry Mead, Winston Percy, John King

24
Daimler Benz 280SE
Rallyegemeinschaft Ulm
Edgar Herrmann, Dieter Benz, Horst Walter
25
Citroën DS 21
Claudine Trautmann
Claudine Trautmann, Colette Perrier
26
Ford Escort
Springfield Boys Club
Jimmy Greaves, Tony Fall
27
Porsche 911S
Alfonso Mondini
Alfonso Mondini, Guiseppe Bottaro
28
Works
Mokskvitch 412
Auto Export (USSR)
Leonti Potapchick, Edouard Bashenov, Youri Lesovski
29
BMW 2002 ti
Bolivian National Team
William Bendek, Dieter Hubner, Jorge Burgoa
30
Time Militar
Trident Ventura V6
17th/21st Lancers
Capt. Chris Marriott, Capt. John Dill

31

Não Largou

NSU120 CS

F.W. Hill

F.W. Hill, Tony Coote, Mike Donnelly

32
Austin 1800
Ken Tubman
Ken Tubman, Andrew Welinski, Rob McAuley
33
Peugeot 504
C.R. Zicavo (Arg)
C.R. Zicavo, A.J. Specos, AA. Verna
34
British Leyland 1800
H.C. Penfold
H.C. Penfold, P.A. Jones, E. McInally

35

Não Largou

Not Notified

R. Sanchez Noya

Carlos Fabre Lestrade, R. Sanchez Noya

36
BMW 2002ti
P.Kube (Peru)
P.Kube, Lother Ranft
37
Vauxhall Victor Estate
T.W.Walker
T.W.Walker, D.M. Leonard, J.A. Burdon
38
Daimler Benz 280SE
Fixo-Flex Sports Team
Alfred Katz, Alfred Kling, Albert Pfuhl
39
Works
Triumph 2.5 Pi
Adrian Lloyd-Hirst
Adrian Lloyd-Hirst, Brian Englefield, Keith Baker
40
Works
Moskvitch 412
Auto Export (USSR)
Sequie Tenishev, Valentin Kislykh, V. Shirochenkov
41
Time Militar
Morris 1800
17th/21st Lancers
Jeremy Rugge-Price, Charles Morley-Fletcher, Philip Beaver
42
Volvo 144
Jose Araujo (Arg)
Jose Araujo, John Batley
43
Works
Triumph 2.5pi Mk2
British Leyland/FA
Andrew Cowan, Brian Coyle, Ularico Ossio
44
Wagoneer Jeep
Brian Chuchua
Brian Chuchua, Bill Kirkland, Dick Gould
45
Ford Escort GT 1300
Doug Harris
Doug Harris, Michael Butler
46
Semi-Works
Ford Escort
Daily Express
Raunno Aaltonen, Henry Liddon
47
Works
Citroën DS 21
Paul Coltelloni
Paul Coltelloni, Ido Marang
48
Lotus Cortina
Midland Bank
Richard Skeels, John Alsop
49
Mercedes Benz 180 SE
Annabels
Mike Taylor, Innes Ireland, Mark Birley
50
Volkswagen Beach Buggy
John Caulcutt
John Caulcutt, David Steward, Noel Hutchinson
51
Saab V4
Power Gardening
Bert Jennings, Colin Taylor
52
Rolls Royce Silver Shadow
R.K. Richards
Bill Bengry, R.K. Richards, David Skeffington

53

Não Largou

Ford Cortina GT

D.E. Young

D.E. Young, Mrs D.S. Whitman

54
Morris 1800
Robert Redgrave
Robert Redgrave, Phil Cooper, Bob Freeborough
55
Time Militar
BLMC 1800
Royal Navy
Lt. Cmdr. J. Mitchell, Lt. A.S.G. Evans, R. Taylor
56
Porsche 911S
E.Celerier
E.Celerier, M.Gauvain

57

Não Largou

Citroën

N. Gabor

Nicholas Gabor

58
Time Militar
Volvo 132
Col. J.W. Weld
R.J.G. Anderson, E.A.T. Willcocks, T.S. Bosence
59
Semi-Works
Mini Clubman 1275 GT
BBC Grandstand
John Handley, Paul Easter

61

Não Largou

Austin 1800

Team Thailand

Viscount Errington, Bill Heinecke

62
Seat 1430
Carlos Del Val (Spain)
Carlos Del Val, J. Lazcano
63
Peugeot 404
Safrar/Peugeot Arg
E.R. Lareta, J.Migliore
64
Porsche 911S
Cianpiero Mondini (Italy)
Cianpiero Mondini, Mario Contini
65
Semi-Works
Ford Escort
Shoot Football Weekly
Roger Clark, Alec Poole
66
Peugeot 404
Safrar/Peugeot Arg
Gaston Perkins, Jack Forrest Green
67
Time Militar
Peugeot 504
Royal Fusiliers
Maj. E.Moorat, Lt. John Shaw

68

Não Largou

Ford Cortina

J. Walker

J. Walker, J. Wheeler, T. Turner

69
Ford Capri
Team Dunton
Brian Peacock, David Skitteral
70
Time Militar e Nobre
Austin Maxi
Royal Hussars & 17th/21st Lancers
Capt. HRH Prince Michael of Kent, Capt. Thompson, Capt. N. Clarkson
71
Works
Moskvich 412
Auto Export (USSR)
Gunnar Holm, Vladimir Boubnov, Kastatis Guirdauskas
72
Time Militar
Peugeot 504
British Army/Paris Match - Kerridge
Maj. Freddie Preston, Maj. Bailey
73
Morris 1800
Grants of Croydon
Anthony Pett, David Franks, Robert Robertson
74
Time Feminino
Austin Maxi
Evening Standard
Rosemary Smith, Alice Watson, G.Derolland
75
Mercedes Benz 220 Diesel
J.M. Wilson
J.M. Wilson, J. Walker
76
Peugeot 404
Safrar/Peugeot Arg
Jean-Claude Ogier, Claude Laurent
77
Toyota Corolla KE 10-B
Jan Leenders (Thai)
Jan Leenders, Preeda Chullamondhol
78
Peugeot 504
J.P. Esteguy (Arg)
Emil Ipar, Enrique Esteguy, Juan Esteguy
79
Datsun 1600 SS
Rob Jannsen (Neth)
Rob Jannsen, Jacob Dik
80
Fiat 2300 Station Wagon
Joseph Sherger
Joseph Sherger, James Sherger
81
Hillman Hunter GT
Mike Tyrell (Antiga)
Mike Tyrell, James Fuller

82

Não Largou

Not notified

J.M. Avilla

J.M. Avilla

83
Hillman Hunter
W.G. James
Alun Davies Rees, Hywel Thomas, Washington James
84
Works
Moskivitch 412
Auto Export (USSR)
Emmanuil Lifshits, Victor Schaveler
85
Semi-Works
Ford Escort
Sunday Express
Colin Malkin, Richard Hudson-Evans
86
Ford Mustang
Lavinia Roberts
Lavinia Roberts, David Jones, Lt. A. Hazlerigg
87
Peugeot 504
Derek Currell
Derek Currell, R. F. Currell, Albert Bryan
88
Works
Triumph 2.5 Pi
British Leyland/FA
Brian Culcheth, Johnstone Syer
89
Austin Mini Cooper Four Door
Conroy Motors
Allan Keefe, James Conroy
90
BMW 2002ti,
Ken Bass
Ken Bass, Graham Waring
91
Semi-Works
Time Feminino
Morris 1800
Woman Magazine
Jean Denton, Pat Wright, Liz Crellin
92
Works
Time Feminino
Triumph 2.5 Pi
British Leyland/Motor
Evan Green, Gelegnite Jack Murray, Hamish Cardno
93
Works
Citroën DS21 (France)
Rene Trautmann
Rene Trautmann, Jean-Pierrie Hanrioud
94
Time Militar
Ford Cortina GT
RAF
Donald Soames-Waring, Andrew Thwaite, G.Crighton
95
Morris 1800
Dennis Cresdee
Robert Eves, Dennis Cresdee, Franklin Bainbridge
96
Works
Austin Maxi
British Leyland/Autocar
Terry Kingsley, Peter Evans, Michael Scarlett
97
Peugeot 404
Ken Haskell
Ken Haskell, David Paull, Douglas Larson
98
Works
Triumph 2.5Pi
British Leyland/FA
Paddy Hopkirk, Tony Nash, Neville Johnson,
99
Ford Cortina
Kim Brassington
Alex Brassington, James Carslaw
100
Works
Citroën DS 21
Societe d'Encouragement de Automobile France
Patrick Vanson, Olivier Turcat, Alain Leprince
101
Works
Citroën DS 21
Guy Gerrier
Guy Gerrier, Francis Murac

102

Não Largou

Simca 1501S

R. Pontier

Raymond Pontier, Roger Lamoral

103
Semi-Works
Ford Escort 1900
Daily Telegraph
Timo Makinen, Gilbert Staepelaere
104
Ford Cortina Savage
Peter Graham
Peter Graham, Leslie Morrish, David Price
105
Ford Escort 1600 GT
Lydden Circuit
Bill Chesson, Robert East
106
Fiat 124
Jose A.R. Artasanchez
Enrique Fortes, Jose A.R. Artasanchez, Adolfo Janiero
1970 London to Mexico World Cup Rally

| Pos | Pilotos | Carros | Time Penalties |
| --- | --- | --- | --- |
| 1 | H. Mikkola/G. Palm | Ford Escort 1850GT | 9hr 7min |
| 2 | B. Culcheth/J. Syer | Triumph 2.5PI | 10hr 25min |
| 3 | R. Aaltonen/H. Liddon | Ford Escort 1850GT | 10hr 46min |
| 4 | P. Hopkirk/A. Nash/N. Johnston | Triumph 2.5PI | 12hr 26min |
| 5 | T. Makinen/G.Staepelaere | Ford Escort 1850GT | 14hr 31min |
| 6 | J. Greaves/A. Fall | Ford Escort 1850GT | 19hr 31min |
| 7 | P. Vanson/O. Turcat/A. Leprince | Citroën DS21 | 22hr 3min |
| 8 | S. Zasada/M. Wachowski | Ford Escort 1850GT | 23hr 59min |
| 9 | R. Redgrave/P. Cooper/R. Freeborough | Morris 1800 | 24hr 42min |
| 10 | Ms. R. Smith/Ms A Watson/Ms G. Derolland | Austin Maxi | 30hr 35min |
| 11 | K. Tubman/A. Welenski/R. McAuley | Austin 1800 | 32hr 36min |
| 12 | L. Potapchik/E. Bazhenov/Y. Lesovski | Moskvitch | 34hr 6min |
| 13 | W. Bendeck/D. Hubner/J. Burgoa | BMW 2002ti | 35hr 14min |
| 14 | R. Channon/R. Cooper | Ford Lotus Cortina | 36hr 43min |
| 15 | A. Rees/H. Thomas/W. James | Hillman Hunter | 37hr 50min |
| 16 | A. Katz/A. Kling/A. Pfuhl | Mercedes-Benz 280SE | 38hr 5min |
| 17 | G. Holm/V. Boubnov/K.Guirdauskas | Moskvitch | 38hr 52min |
| 18 | Ms. J. Denton/Ms. P Wright/Ms. E. Crellin | Morris 1800 | 39hr 16min |
| 19 | G. Perkins/J. Greene | Peugeot 404 | 40hr 46min |
| 20 | S. Tenishev/V. Kislykh/V. Chirochenkov | Moskvitch | 41hr 5min |
| 21 | R. Janssen/J. Dik | Datsun 1600SSS | 46hr 1min |
| 22 | T. Kingsley/P. Evans/M.Scarlett | Austin Maxi | 46hr 25min |
| 23 | D. Harris/M. Butler | Ford Escort GT | 66hr 8min |
Mas, vamos lá... vamos saber da entry list (não vou falar de carro a carro - alguns dos mesmo Time tinham preparação diversa - mas da marca e modelo registrado e do Time mais relevante, começando do número do carro que primeiro está na lista):
O #1 era um Triumph 2.5PI (tinham 5 deste modelo), mas o #98 (dos 106 inscritos), era pilotado pelo Paddy Hopkirk/Tony Nash/Neville Johnston. O Triumph ficou em segundo e quarto lugar (os outros não chegaram). O carro que chegou em segundo (#88), foi com o time capitaneado pelo Brian Culcheth/Johnstone Syer (foi usado até o final dos anos 70 e desmontado por ordens da British Leyland Motorsport Departament).
O #2 era um Porsche 911S (tinham 4 deste modelo). Não tinha assim... um Time muito bom... e cai entre nós o Porsche não é um carro lá muito confiável para rallyes duros (se não for muito preparado - inclusive na parte elétrica). Bom... os Porsches foram preparados por empresa italiana e não pelos alemães. Isso explica porque não chegaram entre os 23 que terminaram a prova (brincadeira...).
O #3 era um BMC 1800 (haviam 9 deste modelo). Tinha o apelido de Landcrab (acreditem - esse modelo ficou mítico por sua robustez). Três desta frota chegaram até o final, com a melhor colocação em nono lugar. Foi considerado um dos carros mais confiáveis e bem rápidos. O Peter Jopp #3 era muito bom - Os #54 e #55 eram compostos por times militares e o time feminino compunha o #91.
O #4 era um Hillman Hunter (haviam 2 deste modelo). Idem com um Time fraco, mas chegou em décimo quinto na classificação geral, entre os 23 que chegaram. Era um work, utilizado dois anos antes no London-Sydiney. Na foto logo acima era o utilizado em 68.
Esse é o a diesel (D)
O #5 era um Peugeot 404 D (haviam quatro 404 e um 404 D). Era um timinho fraquinho. Só um destes carros chegou em décimo nono lugar (melhor colocação). Houve um certo problema com abastecimento de diesel no decorrer da prova.
O #6 era um Peugeot 504 (haviam 6 destes carros). Os Times dos 504 eram melhores do que os times que estavam com os 404. Nenhum chegou na final.
O # 7 era um Vauxhall Viva GT - havia um só deste modelo (tinham outros Vauxhall). Não chegou.
O #9 era um Ford Lotus-Cortina MKII - era o único Lotus (haviam outros Fords Cortina). Chegou em décimo quarto.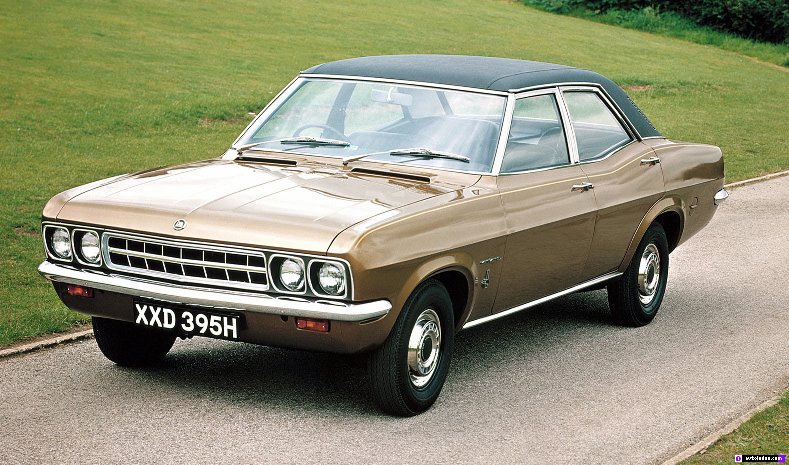 O #10 era um Vauxhall Ventora - único da lista. Não chegou e... sequer tenho foto deste carro (a foto acima é de um modelo igual a que foi para o rallye).
O #11 era um Ford Capri 1600 - único da lista. Não chegou. Não chegou e... sequer tenho foto deste carro, também (foto acima é de um modelo 1970).
O #12 era um Citroën DS21 (eram 6 works). Belo carro (apesar de francês... brincadeira, um works da Citroën era bom, já os de série...). Um só chegou e foi em sétimo lugar - o #100, que foi todo desmontado e não preservado. Havia um time feminino de peso, com o #25 (Claudine Trautamann e Colette Perrier).
Esse perdeu a suspensão traseira em Portugal e tchau prova...
O #13 era um Rolls-Royce Silver Cloud - o #52 era um Rolls-Royce Silver Shadow. Seja um ou outro, que legal ver um carro que não é nada esportivo, mas lutou de igual para igual com os esportivos. Não chegou nem um nem outro.
O #14 é o carro que mais gosto... Um Escort. Que carro. Era equipado com motor 1.850cc (era um motor rápido e durável, preparado para a competição - originalmente era um 1600 preparado com pistões maiores). Na verdade todos os Escorts eram semi-works, com Times mais do que profissionais [#14 Sobieslaw Zasada/Marek Wachowski; #18 Hannu Mikkola/Gunnar Palm (chegou em primeiro); #26 Jimmy Greaves/Tony Fall (chegou em sexto); #46 Rauno Aaltonen/Henry Liddon (chegou em terceiro); #65 Roger Clark/Alec Poole; #85 Colin Malkin/Richard Hudson-Evans e... terminando com o #103 Timo Makinen/Gilbert Staepelaere (chegou em quinto)]. Notem que os Times são duplas e que DUPLAS. E não é para gostar deste carro e das duplas? Ah é. E tem uma turma que diz que eu só elogio carro inglês e meto o pau em carro francês e italiano. Mentira. Mentira. But... dos sete Escorts, cinco chegaram entre os 8 primeiros - sendo que um deles chegou em primeiro.
O #15 era um outro Ford e um Ford Cortina GT. Um Cortina que não era Lotus. Eram 4 Cortinas GT. Nenhum chegou.
O #16 era um outro Ford e um Ford Escort, mais especificamente um único exemplar de um Ford Escort do Time Elba Motor. Eu não tenho uma foto sequer. Também... nem chegou.
O #17 era um Hillman GT (eram dois exemplares). Como vocês sabem só o Hunter chegou - esses dois - nada.
O #19 era um Fusca. Era um VW Beetle. Tinha um Bug e este VW. Nenhum chegou. Parece incrível, mas nenhum chegou...
O #20 era um Austin Maxi... O carro era feio, mas era um valente, com motor transversal. Eram 4 destes carros, sendo um dos Times, formado pelo HRH Prince Michael of Kent (#70 - envolveram-se num acidente aqui no Brasil) e outro por integrantes da RAF. Haviam dois Times femininos (#20 e #74). As listras laranjas era o máximo, digo Maxi! As meninas do Time #20 chegaram em décimo (primeiro na Copa de Damas, sendo uma dos pilotos a fantástica ralizeira Resemary Smith) e o #96 chegou em 22 dos 23 que chegaram no final. Ótimo resultado!
O #21 é: Escavuska! Não, na verdade era um Moskvich 412. Eram 5 works. Três chegaram entre os 23 [décimo segundo (#28), décimo sétimo e vigésimo]. Ótima média.
O #22 é um carro italiano - uma Alfa Romeo Giulia 1600 Super. Nome pomposo, para não chegar. Também, não tenho a foto (a foto de cima é de um modelo igual, 1970).
O #24 é uma Mercedes-Benz 280SE. Foram em 3 carros. Nenhum destes alemães chegou ao final. Mas uma delas tinha teto solar. Ah bom...
O #29 era outro alemão - agora uma BMW 2002Ti - eram 3 deste modelo. O interessante era um Time da Bolívia e outro do Peru, com esse carro. Resultado: O #29 da Bolívia, chegou em décimo terceiro.
O #30 era um Trident Venturer - era o único da estirpe, com uma pintura toda estilizada. Muito estranho, para carro de rallye, ou não... Bom o desenho era italiano do Fissore...
O #37 era um Vauxhall Victor Estate - Nem tem foto, nem quero falar sobre esta Estate... (tá bom... a foto acima é um carro igual de 1970).
O #42 era um Volvo 144 - era o único do evento. Nem chegou no final.
O #44 era um Jeep Wagoneer. Ok - resumindo: não chegou.
O #50 era um Bug VW. Ok. Advinhem... Não chegou.
O #51 era outro sueco - Saab V4 - que não chegou na final. Outro fracasso sueco.
O #58 - outro fracasso suceco - um Volvo Amazon GT 132. Que ódio.
O #59 era um Mini 127 GT - não chegou a nada (quebrou logo na Itália).
O #62 era um Seat 1430. Nem cumpriu 1/6 do rally.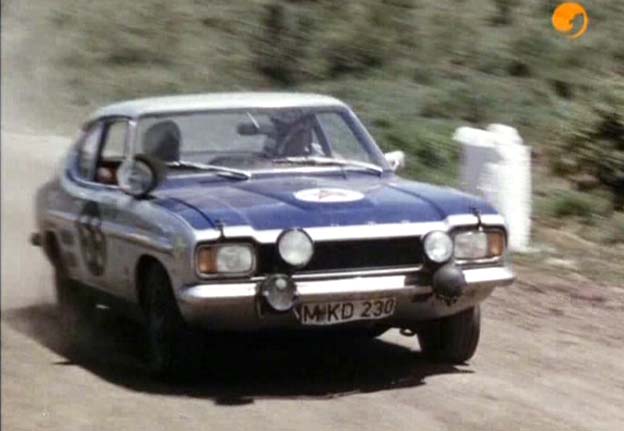 Esse é o mesmo carro correndo em no Safari Rally
O #69 era um outro Ford Capri, agora o modelo 2300. Nada.
O #75 era outra decepção alemã: Um Mercedes-Benz 220D. Nada de chegar (modelo acima igual).
O #77 um exemplar do Japão: Toyota Corolla. Fizeram companhia com os alemães, italianos e suecos. Foto acima de um modelo igual.
O #80 um outro exemplar do Japão: Datsun 1600SSS. Esse japa chegou em vigésimo primeiro. Grande companhia para os não perdedores. Modelo acima que fez a prova - aqui no Safari Rally de 1970.
O #81 era um Fiat 2300 Estate. Sem comentários (olha o modelo igual ao que competiu... sem comentários).
O #86 era um Ford Mustang. Fala sério...
O #99 e o #104 eram Ford Cortina Savage. Nada.
O último da lista, tinha que ser um italiano. Fiat 124. Nada nem foto.
Filminho do Escort MKI na prova
Filminho privado - sem som mas tem carro
Filminho do Triumph 2.5PI